Rich & Carolyn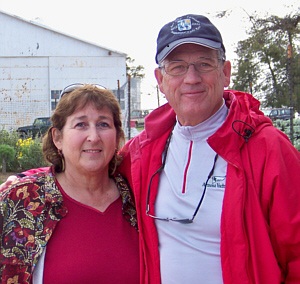 Welcome to our family website. This picture was taken at Catalina Island early in March, 2010 when we spent some time at Avalon to celebrate our 33rd wedding anniversary. Our home is in Tucson, Arizona and we are continually updating our address book for family and friends. Please send an email to aztucwatson@gmail.com or see Rich at Facebook.com.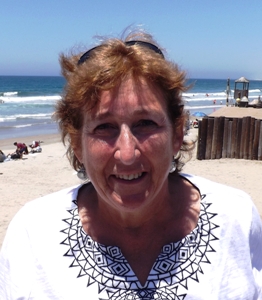 Carolyn at Newport Beach Pier (Jul 2012)
Carolyn retired from the University of Arizona in April 2012. Rich is continuing to handle the Volunteer Telescope Operators at Flandrau, as well as working with computers and consulting. We both now are enjoying more time sailing.
---
San Carlos, Mexico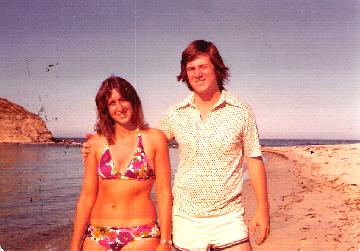 This is a picture of us in 1976 when we were at San Carlos for the first time. The location is "Catch 22" beach and we were standing directly in front of what is now known as the "Soggy Peso" bar. Below, is a picture of the Fiesta Hotel in 1976.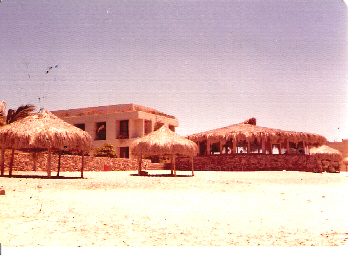 San Carlos 30th Anniversary celebration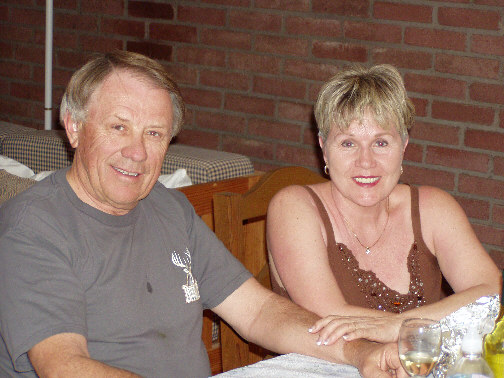 Ruth & Mo Holthaus. accompanied us for a week in Mexico to celebrate our 30th (Mar 2007)
Hawaii 2008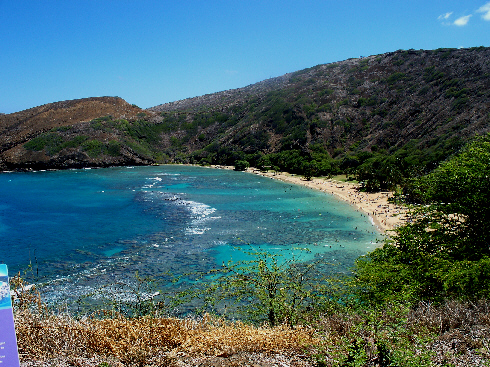 Summer 2008 we went to Hawaii with our friends, Ned & Deana for a couple of weeks of sunshine and fun. We rented a house in Kaneohe which is located on the opposite side of Oahu from Honolulu. David was working on a coffee farm on the big island of Hawaii and he was able to join us. Here are some pictures.
Ned & Deana at the Hawaii Yacht Club, Waikiki
---
Catered Lunch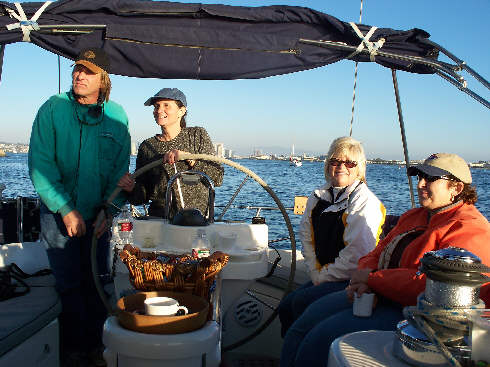 A lunch date with Gourmet Sailing Adventures on Chez Nous with Marcie Armstrong, chef & captain on San Diego Bay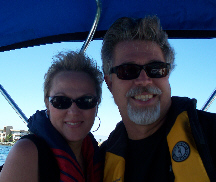 Rodney & Lanette Mackey joined us for sailing on San Diego Bay...a perfect day for celebrating their anniversary and Carolyn's birthday on the water...lunch at Anthony's
Heather, Jonathan, Jethro, Miriam & Kayla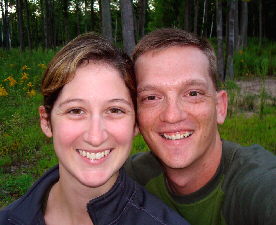 Our daughter, Heather along with her husband Jonathan and their children, Jethro, Miriam & Kayla have recently returned to the States after 3 years living in Taegu, South Korea. They are now settled into a comfortable, new home in South Carolina. Jonathan is a Captain in the U.S. Army working at Shaw AFB. Heather is a librarian (MA; University of Arizona) who is currently taking time to care for her three children.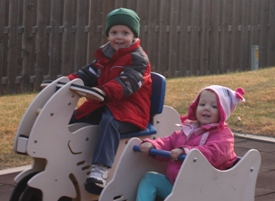 Jethro & Miriam (Nov 2012)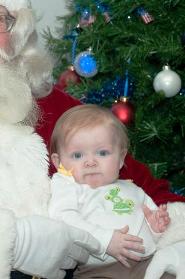 Kayla at 4 months (Dec 2012)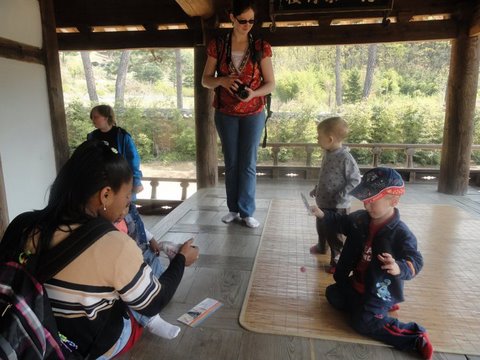 Jethro & Mom at Korean Village (Apr 2011)
Here are some wedding pics from October 15, 2006, taken at the historic Arizona Inn. The day before the wedding, there was a reception BBQ at the Watson house (I did see Father of the Bride).
---
David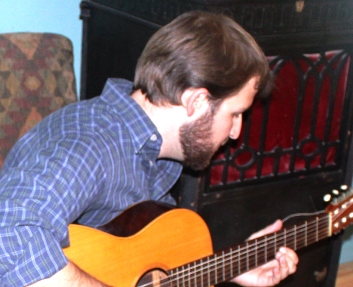 David playing guitar at Thanksgiving 2012
David recently graduated with a BS in Environmental Science at the University of Arizona. Currently he works as a Public Astronomer at Kitt Peak National Observatory south of Tucson.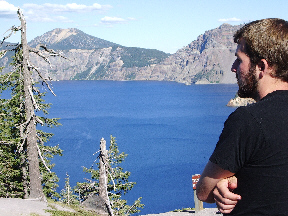 David at Crater Lake
During the summer of 2007 David worked in Oregon doing botanical and soil surveys for BLM and hiked at Crater Lake. Below, is a snapshot from the beach while we were visiting in Hawaii during the summer of 2008. David was working on a coffee farm at Kona on the Big Island.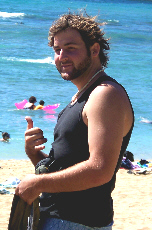 ---
Deaners
The linked pictures reflect some great memories for all of us who miss Carolyn's folks.
---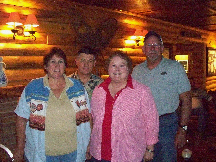 Lonnie & Skip in the White Mountains of Arizona
---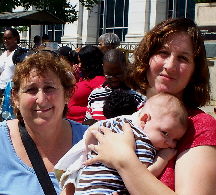 Xcuse me mom, is it naptime yet? (Aug 2009)
Please send an email to Carolyn at watson9137@gmail.com if you have news to share.
Sailing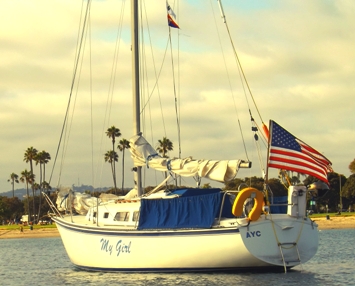 "My Girl" is our Newport Mark III 30-foot sailboat, shown above at Mission Bay when we were just beginning our July 2012 trip up the California coast. We belong to the Arizona Yacht Club (AYC) as noted on the boat's stern.

We have a slip (B-57) at Loews Coronado Bay Resort on Coronado Island. It is a great place to get together with friends, so please let us know if you expect to be in the neighborhood.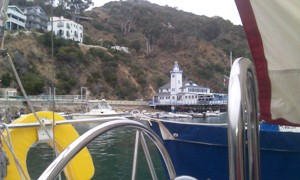 Mooring at Avalon (Jul 2012)
During our month-long cruise in July 2012 we sailed to Mission Beach, Newport Beach, Marina Del Rey & Catalina Island, where we stayed at Twin Harbors & Avalon.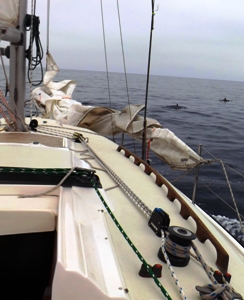 Dolphins to starboard in the Santa Barbara Channel (Jul 2012)

Rich doing some maintenance at the masthead of "Ocean Blue" (Tayana 55)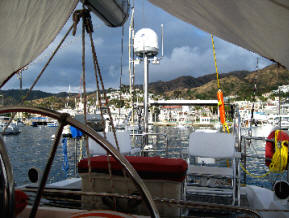 "Ocean Blue" mooring in Catalina with Avalon directly off the stern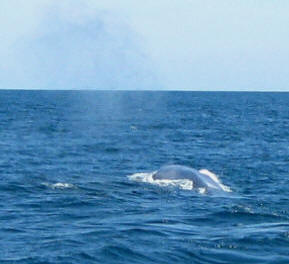 A whale joined us about 25 miles offshore on our way back to Coronado Island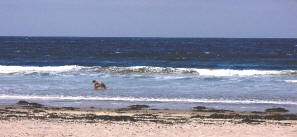 Silver Strand State Beach
The Silver Strand State Beach on Coronado Island is within a few steps of our slip. There is an underground pedestrian tunnel going under the road from the bay side to the Pacific Ocean.
---
Taking a moment for music with Rich, playing guitar, as Jim & Ivean listen while sailing on "Ocean Blue"